Meet our Employees
Meet our Employees
I found a diverse work environment that respects individuality to be attractive.
It's a great place to work for working parents!
What is your current role?

I am currently in charge of mainly major foreign capital consulting firms, specializing in IT human resources, and supporting the hiring and changing jobs of project managers and the heads of consulting departments. In my management role, I also develop my members in my team and participate in internal training projects.
My working style is a bit unique. I live in Nagoya but work for clients in Tokyo. Due to various circumstances, I am now working remotely from the local area that is a rare case even within the company. However, I am very grateful for the environment that allows me to work without the problems of being far away.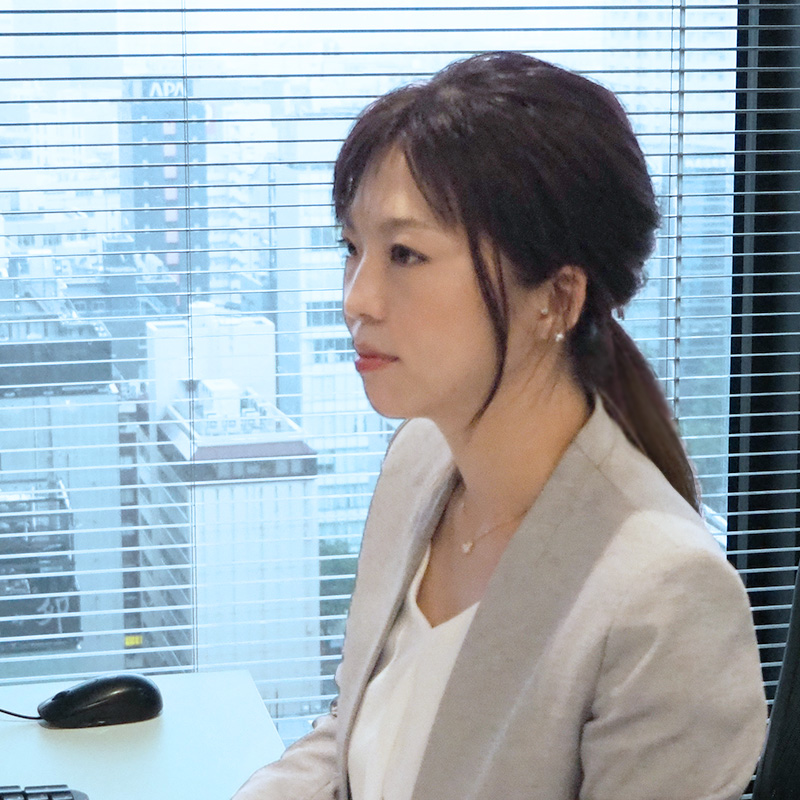 What was the trigger for you to change jobs to en world?

I joined Accenture as a new graduate. However, I did not have a firm dream to realize at a consulting firm but rather that I chose this company for self-growth even though I was not sure what I wanted to do. Because I heard that "at a consulting firm, you can gain the equivalent of 10 years of experience in three years". There, I was involved in projects such as a system for a central government agency, which ultimately became the foundation for my current career in the consulting x IT field.
When I got married, I moved to Nagoya and started looking for a new job. However, as I was in my mid-twenties and had just gotten married, many people thought I would be taking maternity or childcare leave soon. Thus, my job search was not going well. That's when I met en world.

The interviewers were very fair and did not seem to care about my age or gender at all.

There were many foreign nationals and employees from various backgrounds, and I could feel the culture of respecting each individuality. I decided to join the company because of the global culture and diversity of the company, and I thought that I could work in a way that I could be myself.
It was my first time in the recruitment industry, but

I learned a lot from having it out to the hiring managers of our clients and job seekers. I feel that this is a job where I can think and work on my own and have a lot of freedom and discretion in my work.
Were you interested in a global work environment, working for a foreign company, or changing jobs to en world?

Due to my father's work, I spent three years of my junior and senior years in Belgium, attending an international school. Perhaps because of this, I am attracted to an environment that is fair and open. Since I have a strong desire to compete on my own merits, I believe that companies that are male-dominated or have a seniority system are not suitable for me. Foreign capital companies and global Japanese companies may be a little more advanced in this respect. I took maternity leave twice at en world, but the company recognized my contribution and promoted me to a manager.
In en world, there are people from various backgrounds and a mixture of diverse values. But we respect each other as individuality. I find this a unique environment with all kinds of people to be very attractive.
What do you find most rewarding about your job?

When I hear that someone, I have supported change jobs is doing well in their new workplace, I feel very happy that I could support them in achieving their career goals. Some of them even report to me about their promotions several years after changing jobs. Being successful in three to five years at their new job means that they can achieve our mission of "enabling success" that we value so much. It's very rewarding to feel that you have contributed to the person's life. Supporting changing jobs is a big responsibility because we are involved in a milestone in a person's life, but it is also very rewarding.
Since becoming a team manager, I have heard the success stories of my team members, which has made me feel many times more of the value of the work we are doing and the joy of the successes in job changes of our candidates.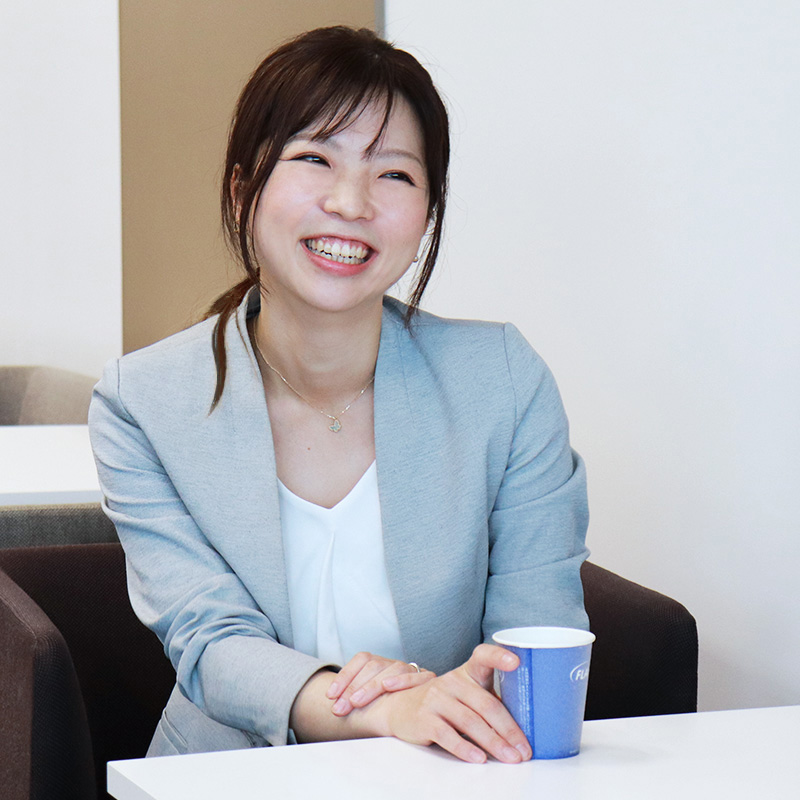 Do you have any values that are important in your work?

I always

want my work to be fun.

The fun does not mean easy. You need to set slightly higher goals and work with a little more height to develop yourself. However, this is not the same as gritting your teeth and working hard at all times.

Since I had my children, I have become more conscious of showing my child and my members that I enjoy working! I want my children and my members to see me enjoying my work. I would be so happy if the people who lead the future, especially those who are trying to build their careers while having families, thought that "working seems fun", or "I might be able to do this."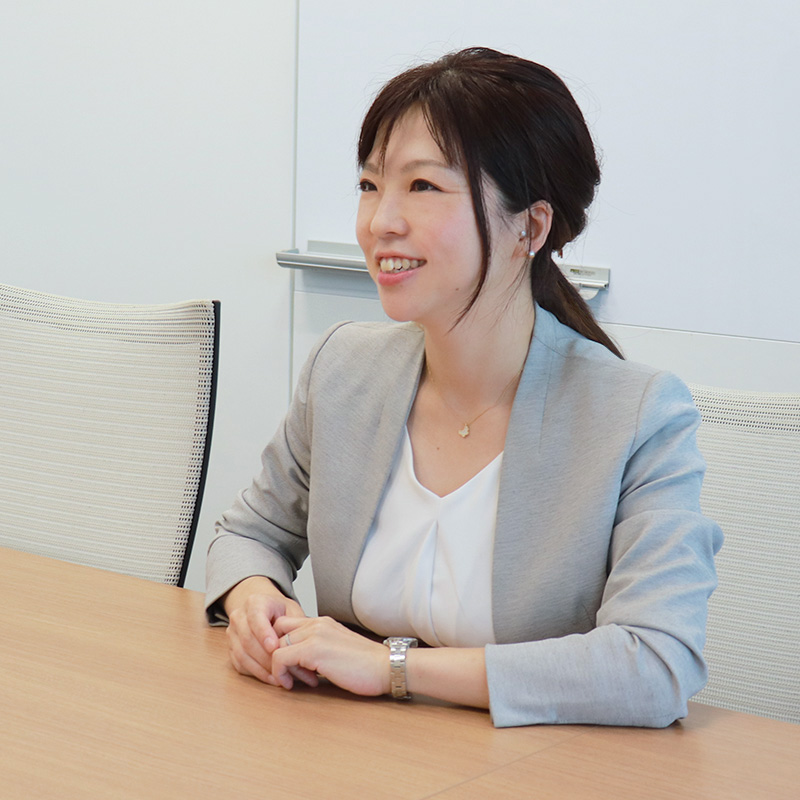 How do you feel about the ease of working as a working mother?

I am currently working from home and on reduced working hours. I feel that en world provides a good working environment even while raising children.
To make the most of my time, I have always been aware of my work priorities and have adopted some ideas to make meetings more efficient. However, my current way of working is not the result of my efforts alone.

I have always had the support of my team,

including many senior colleagues who have paved the way for me to get to this point, as well as understanding superiors and my members who are willing to take on interviews with job seekers late at night.

Not only because I am a working mother, but also because en world has a culture of great teamwork, and if you have a problem, someone will immediately help you, even if it is across departments. I am always grateful to the people around me for their support.


Working while raising children is very tough in terms of the time constraints it creates. However, in my case, I can find a good balance mentally by relieving the fatigue of work through child-rearing and the stress of raising children through work. We have many other working mothers who are consultants at en world, so we are encouraged by each other's efforts. We also have an online working mom and dads' group, and I look forward to exchanging information there.
What kind of person do you think is suitable for en world?

People who are positive and flexible.

Since this is an interpersonal business, many things will happen, including things that are beyond your control.

If you can turn those challenging events into energy to run without taking them as a negative, I think you are suited for this job.


Also, recruiting is a business that is easily affected by changes in the world. COVID-19 pandemic, for example, we will be affected by the evolution of technology in the future.

I believe that people who can quickly adapt to such a rapidly changing environment and respond flexibly can play an active role.
※The above information is current as of June 2021.